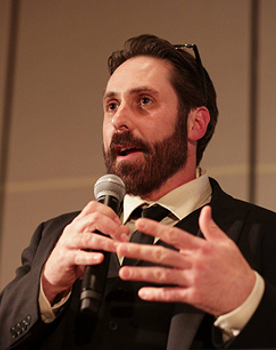 We have an incredible speaker lined up for our upcoming meeting on Monday, August 14 at 6pm at Harry's Hofbrau.
Joe Clifford was born in Berlin, CT, before discovering Jack Kerouac and Syd Barrett (literally) and setting out for San Francisco to be a rock and roll star. "The artist has a restless spirit, a wanderlust and need to explore," he notes.
It didn't work out.
After ten years of heroin addiction and homelessness, Clifford decided to turn his life around. In 2008, he earned his MFA from Florida International University, before returning to the Bay Area, where he currently lives with his wife and two sons. His bestselling Jay Porter Thriller Series (Oceanview Publishing) has received rave reviews from Publishers Weekly, Library Journal, and the San Francisco Chronicle, among many others. The trailer for the book is available here: "Give Up the Dead" Book Trailer
It was not an easy road for him to get to this point. Don't miss his highly anticipated talk at our next meeting, which will center on his journey to becoming a writer while overcoming personal tragedies along the way. Hear him describe a decade of drug addiction that included arrests, overdoses, and near-death experiences. Feel inspired as he charts his ascendance from homelessness to the upper echelons of our craft. "Through it all, I used writing as a beacon, and I finally found that home in the arts," he says. His autobiographical novel, Junkie Love, chronicles his battle with drugs and was published by Battered Suitcase (2013).
Joe will share with us his work and its themes, the job of the professional novelist, and the goals of a writer and editor. He is thrilled to do so. "I pay these blessings forward while never forgetting the hard road it took to get here," he says.
by Jamal Khan