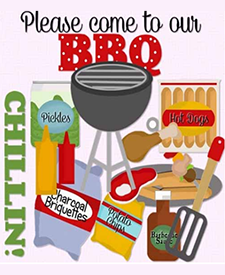 Fire up the grill! Summer is here! Time for our Annual Potluck Barbecue is here. Come and enjoy good food and good company. Chat with old friends and make new friends and contacts.
Please bring an item to share for the potluck according to the first letter of your last name:
A – H : Main Dish or Side Dish
I – R : Salad
S – Z : Appetizer or Dessert
South Bay Writers will provide meat, wine, beer, water and soda.
When: Sunday, July 8th at 3:00 PM
Where: Edie Matthews' home, Santa Clara
Please RSVP: edie333@sbcglobal.net