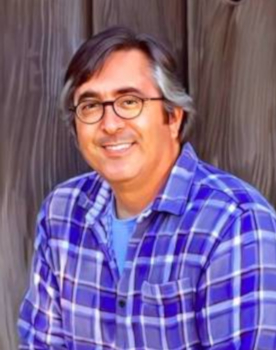 When we come across the language of imagery in a text, something happens. As our eyes move over ink on paper, we experience sensory stimuli. The world of words has become alive within our minds, transporting us to another reality. How seamlessly this happens depends on the merit of the work. It takes skill, and that skill can be learned and strengthened over time. As Stephen King has written, "Description begins in the writer's imagination, but should finish in the reader's." Metaphor goes one step further, drawing comparisons that require logic but feel wholly intuitive. In our November 19th dinner meeting,
Dave
Denny
will help us unpack the mechanics of imagery and metaphor.
Dave
Denny
teaches writing and literature at De Anza College. California Poet Laureate Dana Gioia has described him as "a poet who finds the miraculous in everyday experience."
Dave
's most recent books include the poetry collection
Some Divine Commotion
and the short story collection
The Gill Man in Purgatory
, both from Shanti Arts. He is also the author of three previous poetry collections:
Man Overboard
,
Fool in the Attic
, and
Plebeian on the Front Porch
. His poems and stories have appeared in numerous publications, including
The Sun
,
Narrative Magazine, Rattle, California Quarterly,
and
New Ohio Review
. He holds an MFA from the University of Oregon. Awards and honors include The Thomas Merton Poetry of the Sacred Contest, The Steve Kowit Poetry Prize, The Center for Book Arts Broadside Award, an Artist Laureate Award from the Arts Council of Silicon Valley, and several Pushcart Prize nominations.
When: Tuesday, November 19, at 6PM; talk begins at 7:30pm
Where: Holder's Country Inn, 998 S. DeAnza Blvd, San Jose, CA 95129
Cost to attend : $15 for Members, $20 for Guests
(Cost of admission includes a $10 rebate on the purchase of a dinner)